LOS ANGELES (Mar. 30, 2023) – SQUARE ENIX® today announced that award-winning HD-2D RPG, LIVE A LIVETM is launching on PlayStation®5 (PS5™) console, PlayStation®4 (PS4™) console† and PC via STEAM® on April 27, 2023. Previously released as a new HD-2D remake to critical acclaim on the Nintendo Switch™ system last year, LIVE A LIVE is a story-driven HD-2D RPG from Team Asano, highly regarded for OCTOPATH TRAVELER™, BRAVELY DEFAULT™ II and TRIANGLE STRATEGY™.
Watch the LIVE A LIVE PS5, PS4, Steam Announcement Trailer here.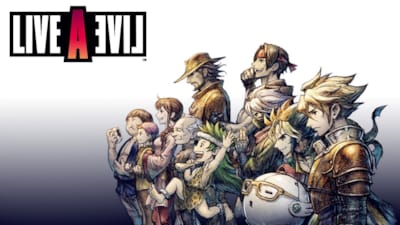 LIVE A LIVE will offer players the freedom to explore eight different stories with eight different characters, each set within different time periods spanning from a pre-historic era to the Wild West, and more. Each unique chapter will offer players a range of different gameplay mechanics to master, such as stealth, suspense and trap placement, all of which center around LIVE A LIVE's turn based battle system. Players will also be able to tailor their gameplay adventure to their preference, the episodic story format gives players the freedom to complete each chapter from start to finish in any order they choose, or even play through a little of each chapter in parallel at the same time.

Produced by Takashi Tokita (CHRONO TRIGGER® and FINAL FANTASY® IV), the original game director of the Super Nintendo version, LIVE A LIVE has been revitalized using HD-2D technology that blends the nostalgia of pixel art with modern graphics, offering a classic RPG gameplay experience with updated visuals on PS4, PS5, and PC. Players can also look forward to a rearranged version of the game's soundtrack which has been recreated under the supervision of LIVE A LIVE's original composer, Yoko Shimomura (FINAL FANTASY® XV, The KINGDOM HEARTS Series).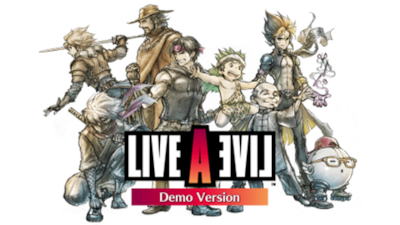 Additionally, a free playable demo is available to download from the PlayStation™Store and STEAM®. In the LIVE A LIVE demo, players will be able to play the opening sections of three of the eight stories in the game: The Wild West, Twilight of Edo Japan, and The Distant Future. Upon purchase, PlayStation and STEAM®* players will also be able to carry over their saved progress to the full version of the game**, allowing them to continue their gameplay experience from where they left off when the game launches.

LIVE A LIVE will be available digitally on the PlayStation 5 console, the PlayStation 4 console and PC via STEAM® on April 27, 2023. Players can pre-order from the PlayStation Store or STEAM® starting today. A 20% off introductory discount will also be available to PlayStation®Plus members who pre-order the game before launch on April 27, 2023, and to STEAM® players who purchase the game before May 11, 2023.

To learn more about LIVE A LIVE, visit https://square-enix-games.com/games/live-a-live

† Cross buy feature is applicable to the PlayStation 4 & PlayStation 5 version of the game.
† Save data from the PlayStation 4 main game can be transferred to PlayStation 5 main game via Options Menu on the title screen. Save data from the PlayStation 5 main game cannot be transferred to PlayStation 4 main game.
* STEAM® players must turn on the Steam Cloud feature in settings before playing the LIVE A LIVE STEAM® demo in order to carry over saved demo data to main game.
** LIVE A LIVE Demo saved data can only be carried over on the same platform.

Related Links:
Official Website: https://square-enix-games.com/games/live-a-live
Twitter: https://twitter.com/SquareEnix
Facebook: www.facebook.com/SquareEnix
YouTube: www.YouTube.com/SquareEnix
Instagram: www.Instagram.com/SquareEnix

About Square Enix, Inc.
Square Enix, Inc. develops, publishes, distributes and licenses SQUARE ENIX® and TAITO® branded entertainment content throughout the Americas as part of the Square Enix group of companies. The Square Enix group of companies boasts a valuable portfolio of intellectual property including: FINAL FANTASY®, which has sold over 173 million units worldwide; DRAGON QUEST®, which has sold over 85 million units worldwide; and the legendary SPACE INVADERS®. Square Enix, Inc. is a U.S.-based, wholly owned subsidiary of Square Enix Holdings Co., Ltd.
More information on Square Enix, Inc. can be found at https://square-enix-games.com
# # #
© 2023 SQUARE ENIX CO., LTD. All Rights Reserved.

© 1994, 2022 SQUARE ENIX CO., LTD. All Rights Reserved.
CHARACTER DESIGN
© 1994, 2022 SQUARE ENIX CO., LTD.
© 1994, SHOGAKUKAN Inc.
Gosho Aoyama, Yoshihide Fujiwara, Osamu Ishiwata, Yoshinori Kobayashi, Ryouji Minagawa, Kazuhiko Shimamoto, Yumi Tamura