LOS ANGELES (June 21, 2023) – Today SQUARE ENIX® announced the highly acclaimed second instalment in the STAR OCEAN series, STAR OCEAN® THE SECOND STORY™ is returning as STAR OCEAN® THE SECOND STORY R™. First released in Japan in 1998 on the PlayStation® console, STAR OCEAN THE SECOND STORY R will return as a 2.5D remake, launching on November 2, 2023. The RPG will be available for Nintendo Switch™, PlayStation®5 (PS5®) and PlayStation®4 (PS4™) consoles, and digitally on PC via STEAM®. Pre-orders are available now.
In a new trailer unveiled today, SQUARE ENIX provided fans with a first look at STAR OCEAN THE SECOND STORY R. The trailer showcases the game's new, stunning visual direction, action-packed gameplay, battle sequences and all-new character illustrations by series veteran Yukihiro Kajimoto, as well as a beautifully rearranged soundtrack by original composer, Motoi Sakuraba.
Watch the Announce Trailer, here.

STAR OCEAN THE SECOND STORY R has been revitalized with a charming 2.5D aesthetic that combines beautiful 3D environments with nostalgic 2D pixel characters, offering players both a classic RPG and modern gameplay experience. Players can expect to find some of the original features that made the original release so memorable alongside brand-new gameplay features including fast-paced, real-time combat and battle mechanics to strategically defeat foes, customizable party progression with an array of skills, including Cooking, Art, Metalcraft, and more. Three new difficulty modes have also been introduced including "Earth" which provides a standard experience, "Galaxy" for those looking for a more satisfying challenge, and "Universe" for seasoned players looking to put their skills to the ultimate test.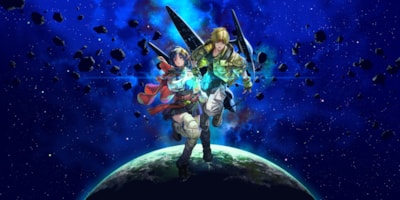 The epic story begins with Claude, a Federation officer, who finds himself transported to an undeveloped planet. While searching for a way home, an encounter with a girl named Rena draws them into a quest to save her people, just as an ancient prophecy foretold. Players will begin their adventure with either Claude or Rena, and depending on their choice, the perspectives and the allies' players recruit will change. Players will get to know party members through the unique 'Private Actions System', which will allow them to grow relationships and unlock a variety of different endings.
STAR OCEAN THE SECOND STORY R will launch with Japanese and English text and voiceover language support, with voiceovers performed by members of the original cast. Subtitle support for French, Italian, German, and Spanish will also be available via a software update at launch.
Standard Physical Editions of STAR OCEAN THE SECOND STORY R are available to pre-order now for the Nintendo Switch, PS5 & PS4 consoles, as well as the Standard Digital Edition for PS5 & PS4 consoles, and PC via STEAM. Pre-orders for the Standard Digital Edition for Nintendo Switch will be available at a later date. Players who pre-order the physical or digital editions will receive the following digital content as a pre-order bonus:
Pangalactic Federation Longsword
Forest Knuckles
Sunrise Ring
Set of recovery items (Mixed Berries x20 + Resurrection Potion x20)

STAR OCEAN THE SECOND STORY R COLLECTOR'S EDITION is available as a special, limited quantity set made for both newcomers and fans of the cult classic.

SET CONTENTS*:
- STAR OCEAN THE SECOND STORY R Standard Edition game
- Collector's Edition goods box
STAR OCEAN THE SECOND STORY R ORIGINAL SOUNDTRACK COLLECTOR'S EDITION
STAR OCEAN THE SECOND STORY R ART BOOK
STAR OCEAN THE SECOND STORY R Mini Acrylic Stand Collection Box

*This set is a SQUARE ENIX STORE exclusive.

STAR OCEAN THE SECOND STORY R will be available for Nintendo Switch, PS5, PS4 and PC via STEAM on November 2, 2023. For more information, visit: https://square-enix-games.com

Related Links:
Official Website: https://www.starocean2r.com
Twitter: https://www.twitter.com/StarOcean
Facebook: https://www.facebook.com/starocean/
YouTube: https://www.youtube.com/c/squareenixna
Instagram: https://www.instagram.com/StarOceanGame
#StarOcean
About the STAR OCEAN Series
Developed by tri-Ace Inc. and published by Square Enix, the STAR OCEAN series is a long-running action-RPG series spanning multiple entries and commemorated its 25th anniversary in 2021. The series is known for its exciting gameplay, epic storylines, diverse cast of characters, as well as its innovative approach to action combat. In 2019, an HD remaster of the first instalment in the series, STAR OCEAN First Departure R, released for the Nintendo Switch™ and PlayStation®4, delivering the classic title with updated visuals, audio, and several quality-of-life improvements to fans around the world. In 2022, STAR OCEAN THE DIVINE FORCE, the sixth main instalment in the series, delivered a fresh and exciting gameplay experience. The highly acclaimed second instalment in the STAR OCEAN series is returning as STAR OCEAN THE SECOND STORY R as a 2.5D remake and will release on November 2nd, 2023.

About Square Enix, Inc.
Square Enix, Inc. develops, publishes, distributes and licenses SQUARE ENIX® and TAITO® branded entertainment content throughout the Americas as part of the Square Enix group of companies. The Square Enix group of companies boasts a valuable portfolio of intellectual property including: FINAL FANTASY®, which has sold over 173 million units worldwide; DRAGON QUEST®, which has sold over 85 million units worldwide; and the legendary SPACE INVADERS®. Square Enix, Inc. is a U.S.-based, wholly owned subsidiary of Square Enix Holdings Co., Ltd.

More information on Square Enix, Inc. can be found at https://square-enix-games.com


© 1998, 2023 SQUARE ENIX CO., LTD. All Rights Reserved. Original version developed by tri-Ace Inc. STAR OCEAN THE SECOND STORY R, FINAL FANTASY, DRAGON QUEST, SQUARE ENIX, the SQUARE ENIX logo, SPACE INVADERS, and TAITO are registered trademarks or trademarks of the Square Enix group of companies. "PlayStation", "PlayStation 5", "PlayStation 4", "PS5", and "PS4" are registered trademarks or trademarks of Sony Interactive Entertainment Inc. Nintendo Switch is a trademark of Nintendo Co., Ltd. Steam and the Steam logo are trademarks and/or registered trademarks of Valve Corporation in the US and/or other countries. All other trademarks are properties of their respective owners. All other trademarks are properties of their respective owners.

##