LOS ANGELES (Nov. 17, 2023) – SQUARE ENIX today released the "Story So Far" recap video for FINAL FANTASY™ VII REBIRTH, which will be viewable from the game's main menu when it debuts on Feb. 29, 2024, for the PlayStation®5 (PS5®) console. The refresher video is narrated by Red XIII, a beast with a flaming tail who offers words of wisdom to Cloud's party from time to time. Red XIII recaps the events of FINAL FANTASY VII REMAKE, the first installment in the critically acclaimed FINAL FANTASY VII remake project.

The Story So Far video is available to watch here: https://www.youtube.com/finalfantasy

Additionally, the company released iconic artwork featuring Aerith and the Highwind airship. Other screenshots, available here, explore the peaceful town of Kalm, the abandoned Mythril Mine, the summon Kujata, the combat abilities and Synergy Skills of various party members, the Chocoboutique, side characters and much more.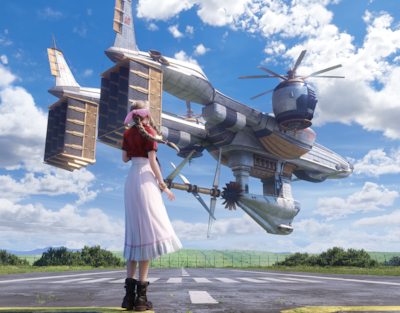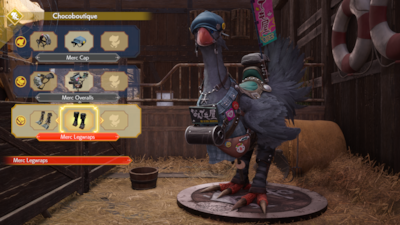 Active and Classic modes return from FINAL FANTASY VII REMAKE, allowing players to choose their battle style: fast-paced thrills or more methodical decision-making. Three difficulty settings, including Easy, Normal and the new Dynamic setting, allow further customization for players – both longtime fans and newcomers alike.

Assets, including the descriptions, are available in the full press kit here.

A new, standalone adventure set across a vast and vibrant planet, FINAL FANTASY VII REBIRTH sees Cloud, Tifa, Barret, Aerith and Red XIII escape from the dystopian city of Midgar into the wide world beyond. To hunt down Sephiroth, a fallen hero and vengeful swordsman from Cloud's past, these unlikely heroes join forces with new companions like the spirited ninja operative Yuffie and the wisecracking, feline-shaped robot Cait Sith. Lead these characters into battle and use powerful synergy abilities to overcome their fates. Explore classic locales reimagined in dazzling detail. Encounter dozens of hours of rewarding side quests, fiend hunts, mini-games and rich stories of the planet's people and cultures.

FINAL FANTASY VII REBIRTH will be available for the PS5® console on Feb. 29, 2024. This title has been rated T (Teen) by the ESRB. For more information, visit https://ffvii.square-enix-games.com/games/rebirth/.


Related Links:
Official Website: https://ffvii.square-enix-games.com/games/rebirth/
X (previously Twitter): https://x.com/finalfantasyvii
TikTok: https://www.tiktok.com/@squareenix
Facebook: https://www.facebook.com/finalfantasyvii
Threads: https://www.threads.net/@finalfantasyvii
YouTube: https://www.youtube.com/finalfantasy
Instagram: https://www.instagram.com/finalfantasyvii/
#FinalFantasy #FF7R

About FINAL FANTASY VII
First released in 1997 on the PlayStation® computer entertainment system, FINAL FANTASY VII celebrated its 25th Anniversary in 2022. The game is universally regarded as a hallmark title of the RPG genre. The original title received high praise for its epic storyline, unique characters, and movie sequences that utilized the most cutting-edge technology of the time. Since then, the game has sold over 13.9 million copies worldwide and continues to receive widespread acclaim from critics and fans around the world. The popular game has even expanded into spin-offs, films and merchandise.

The first game of the FINAL FANTASY VII remake trilogy project, FINAL FANTASY VII REMAKE, released in 2020, has been praised by both players and critics across the globe, earning more than 20 perfect scores from media, and was selected as a PlayStation® "Editor's Choice" pick. The game also became the highest-selling digital release on the PlayStation® platform in SQUARE ENIX's history, exceeding more than 7 million shipments and digital sales worldwide since its release. FINAL FANTASY VII REBIRTH, the second game in the trilogy and standalone story, is now in development and will be available worldwide on February 29, 2024, for the PS5®.

About Square Enix, Inc.
Square Enix, Inc. develops, publishes, distributes and licenses SQUARE ENIX® and TAITO® branded entertainment content throughout the Americas as part of the Square Enix group of companies. The Square Enix group of companies boasts a valuable portfolio of intellectual property including: FINAL FANTASY®, which has sold over 185 million units worldwide; DRAGON QUEST®, which has sold over 88 million units worldwide; and the legendary SPACE INVADERS®. Square Enix, Inc. is a U.S.-based, wholly owned subsidiary of Square Enix Holdings Co., Ltd.

More information on Square Enix, Inc. can be found at https://square-enix-games.com

# # #
© SQUARE ENIX
CHARACTER DESIGN: TETSUYA NOMURA / ROBERTO FERRARI
LOGO ILLUSTRATION: © YOSHITAKA AMANO

"PlayStation®
" and the "PS" Family logo are registered trademarks and "PS5®
" is a trademark of Sony Interactive Entertainment Inc. All other trademarks are properties of their respective owners.