LOS ANGELES (March 31, 2023) – SQUARE ENIX® today shared the first details on FINAL FANTASY® XIV Online's Patch 6.4: 'The Dark Throne' during the 76th Letter from the Producer LIVE broadcast.

Producer and Director Naoki Yoshida revealed Patch 6.4 is set to launch late May 2023, bringing with it a number of additions, including the continuation of the main scenario questline and the conclusion of the Pandæmonium raid series. An increased level cap of 80 for the blue mage limited job is set to follow in Patch 6.45 alongside new spells, blue mage exclusive gear and new foes to face in the Masked Carnivale.

Further details on Patch 6.4 can be found below:

New Main Scenario Quests – The next chapter in the story of the Warrior of Light.
New Raid – Pandæmonium: Anabaseios - The final instalment of the Pandæmonium raid series.
New Dungeon – New challenges await in The Aetherfont.
New Trials - The Voidcast Dais - A challenging new battle at both Normal and Extreme difficulties.
New Unreal Trial – Containment Bay Z1T9 (Unreal)
New Side Story Quests – Tataru's Grand Endeavour continues.
Duty Support System Update – Support for a number of Stormblood™ main scenario dungeons (The Sirensong Sea, Bardam's Mettle, Doma Castle, Castrum Abania and Ala Mhigo) will be added, meaning they can be completed alongside a party of NPC allies.
Ocean Fishing Update – Explore the new route towards Kugane!
Island Sanctuary Updates – A number of quality-of-life improvements including the ability to place outdoor housing furniture, new ranks, crops, animals, and more.
Player Versus Player Updates:

Crystalline Conflict - PvP Series 4 begins alongside season 7 of Crystalline Conflict.
Frontline – Adjustments made to the rules of The Fields of Glory (Shatter) and the inclusion of a new UI element, displaying the match time and score.

Miscellaneous Updates – Various updates including a new Allagan tomestone, Job icons will now be displayed in the chat log and on player nameplates, market board quality-of-life improvements, the ability to glamour Scholar faeries and more.

Yoshida also shared the first details of Patch 6.45 during the broadcast, including:

Blue Mage Update – Level cap raised to 80, new blue mage-exclusive gear, new enemies to challenge and more.
New Variant & Criterion Dungeon – Mount Rokkon – Three levels of difficulty: Normal, Criterion, and Criterion (Savage)
Somehow Further Hildibrand Adventures
Weapon Enhancement Quests - Manderville Weapons
Tool Enhancement Quests - Splendorous Tools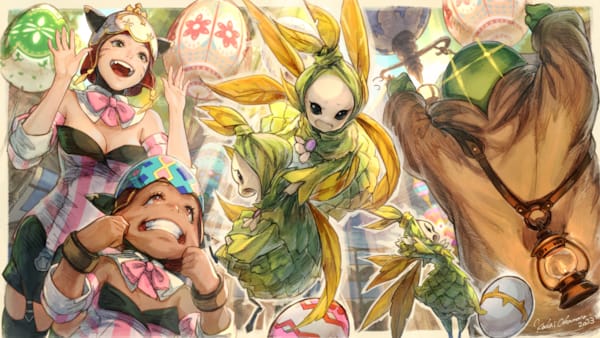 Players can also enjoy this year's Hatching-tide in-game event until Monday, April 10, offering limited time quests and rewards including a set of Tonberry-themed gear, the Frighten emote, the Hippity-hoppity Hatching-tide Advertisement furnishing, and the Pa-Paya Demastered orchestrion roll. For more information, please visit: https://sqex.to/x0ujT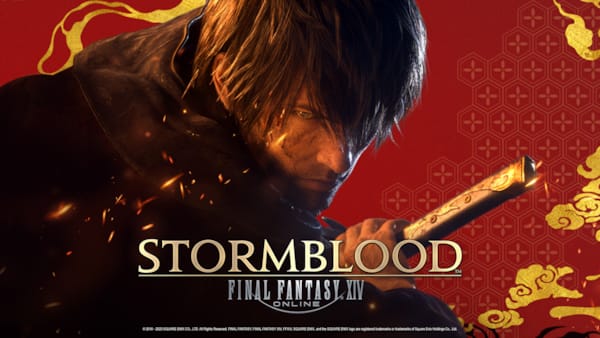 Eligible players in select regions that own or purchase the FINAL FANTASY XIV Online Starter Edition (A Realm Reborn™) can now add the Stormblood expansion to their account for free until Monday, May 8, 2023. Continuing the critically acclaimed story from Heavensward™, Stormblood takes players to new far away locales, introduces new playable jobs, continues the enthralling main scenario questline and more. For more information and eligibility, please visit: https://sqex.to/Stormblood-2023

With more than 27 million total registered players, there has never been a better time for newcomers to begin their adventures in the critically acclaimed FINAL FANTASY XIV Online saga. The expanded Free Trial now includes all content from A Realm Reborn™ and the Heavensward™ expansion (and updates through Patch 3.56), as well as an additional playable race (Au Ra), and three additional playable jobs (Dark Knight, Astrologian, and Machinist). Free Trial players can enjoy hundreds of hours of award-winning gameplay and story experiences equivalent to two full FINAL FANTASY titles, without limit on playtime. More information can be found at: http://sqex.to/FFXIVFreeTrial

For more information on FINAL FANTASY XIV: Endwalker™, visit the official site at: https://na.finalfantasyxiv.com/endwalker/

Related Links
Endwalker Site: https://na.finalfantasyxiv.com/endwalker/
SQUARE ENIX® Press Site: https://press.na.square-enix.com/
The Lodestone®: https://na.finalfantasyxiv.com/lodestone/
Official Facebook®: https://www.facebook.com/FinalFantasyXIV
Official Twitter®: @FF_XIV_EN
Official Instagram®: @ffxiv
#FFXIV


About Square Enix, Inc.

Square Enix, Inc. develops, publishes, distributes and licenses SQUARE ENIX® and TAITO® branded entertainment content throughout the Americas as part of the Square Enix group of companies. The Square Enix group of companies boasts a valuable portfolio of intellectual property including: FINAL FANTASY®, which has sold over 173 million units worldwide; DRAGON QUEST®, which has sold over 85 million units worldwide; and the legendary SPACE INVADERS®. Square Enix, Inc. is a U.S.-based, wholly owned subsidiary of Square Enix Holdings Co., Ltd.

More information on Square Enix, Inc. can be found at

https://square-enix-games.com

###


FINAL FANTASY XIV © 2010 - 2023 SQUARE ENIX CO., LTD. All Rights Reserved.
LOGO ILLUSTRATION: ©2021 YOSHITAKA AMANO
ENDWALKER, A REALM REBORN, HEAVENSWARD, the FINAL FANTASY XIV logo, DRAGON QUEST, EORZEA, FINAL FANTASY, the FINAL FANTASY logo, THE LODESTONE, SPACE INVADERS, SQUARE ENIX, the SQUARE ENIX logo, and TAITO are registered trademarks or trademarks of the Square Enix group of companies. "PlayStation" and the "PS" Family logo are registered trademarks and "PS4" and "PS5" are trademarks of Sony Interactive Entertainment Inc. All other trademarks are properties of their respective owners.