LOS ANGELES ( April 7, 2016) -- The next KINGDOM HEARTS chapter in the beloved series begins today as SQUARE ENIX® and Disney launch KINGDOM HEARTS Unchained χ (read as Unchained "Key"). This free-to-play app (with in-app purchases) allows players to embark on a journey that will uncover story elements from the highly anticipated KINGDOM HEARTS HD 2.8 Final Chapter Prologue and KINGDOM HEARTS III, as well as the earliest parts of the series' epic history.

For the first time in the series, players can create their own Keyblade wielder using the Avatar system. The detailed customization system will provide a variety of unique character costumes based on seasonal events, Disney themes and blockbuster films, including outfits based on Judy Hopps and Nick Wilde from the Walt Disney Animation Studios' hit film, Zootopia.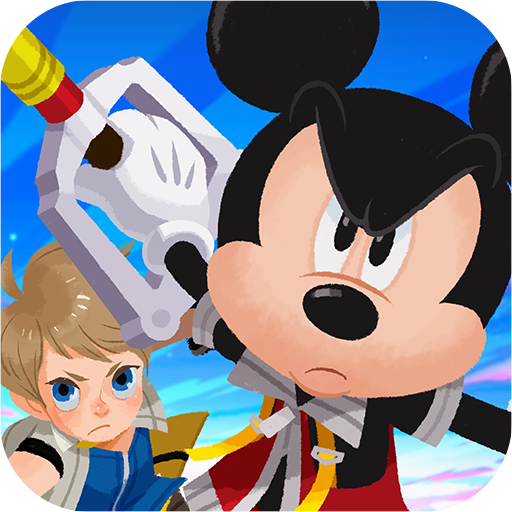 "We wanted to thank all the KINGDOM HEARTS fans for patiently waiting for the launch of KINGDOM HEARTS Unchained χ in North America. We would love for everyone to dive into the world of KINGDOM HEARTS not only through this title, but through the upcoming titles, KINGDOM HEARTS HD 2.8 Final Chapter Prologue and KINGDOM HEARTS III," said franchise director Tetsuya Nomura. "As an origins story, there are many elements in the game that new players can enjoy. The game can also be easily picked up and played, so it would be great if fans new and old, take the opportunity to play the game."

As players traverse the unique worlds of Disney, they will collect, fuse and evolve hundreds of medals that contain the power of Disney heroes and villains. Keyblades can also be discovered across the iconic worlds and strengthened using items found throughout their adventures.

Players can download the game through the App Store for iPhone and iPad and on Google Play for Android devices at the following links:
App Store: https://itunes.apple.com/us/app/kingdom-hearts-unchained-ch/id1086859120?l=ja&ls=1&mt=8
Google Play: https://play.google.com/store/apps/details?id=com.square_enix.android_googleplay.khuxww

For new assets, please visit the press site at press.na.square-enix.com.

Related Links
Official Homepage: www.kingdomhearts.com/unchained
Facebook® Page: http://www.facebook.com/kingdomhearts
Twitter®: @KINGDOMHEARTS
YouTube: www.youtube.com/KingdomHearts

About the KINGDOM HEARTS Series
KINGDOM HEARTS is a series of role-playing games created through the collaboration of Disney Interactive and Square Enix. Since the first KINGDOM HEARTS was released in March 2002 for the PlayStation®2 system, the series has expanded several additional entries. The series celebrated its 10th anniversary in March 2012, and has shipped over 21 million units worldwide.

About Disney Consumer Products and Interactive Media
Disney Consumer Products and Interactive Media (DCPI) is the business segment of The Walt Disney Company (NYSE:DIS) that brings our Company's stories and characters to life through innovative and engaging physical products and digital experiences across more than 100 categories, from toys and t-shirts, to apps, books and console games. DCPI comprises two main lines of business: Disney Consumer Products (DCP), and Disney Interactive (DI). The combined segment is home to world class teams of app and game developers, licensing and retail experts, a leading retail business (Disney Store), artists and storytellers, and technologists who inspire imaginations around the world.

About Square Enix Inc.
Square Enix, Inc. develops, publishes, distributes and licenses SQUARE ENIX, EIDOS® and TAITO® branded entertainment content throughout the Americas as part of the Square Enix Group. The Square Enix Group operates a global network of leading development studios and boasts a valuable portfolio of intellectual property, including: FINAL FANTASY®, which has sold over 110 million units worldwide; DRAGON QUEST®, which has sold over 66 million units worldwide; TOMB RAIDER®, which has sold over 42 million units worldwide; and the legendary SPACE INVADERS®. Square Enix, Inc. is a U.S.-based, wholly-owned subsidiary of Square Enix Holdings Co., Ltd.

More information on Square Enix, Inc. can be found at http://www.na.square-enix.com/.

© Disney Developed by SQUARE ENIX.
DRAGON QUEST, EIDOS, FINAL FANTASY, SQUARE ENIX, the SQUARE ENIX logo, SPACE INVADERS, TAITO and TOMB RAIDER are registered trademarks or trademarks of the Square Enix group of companies. All other trademarks are properties of their respective owners.