LOS ANGELES (March 8, 2023) – SQUARE ENIX® today announced that it has collaborated with PUMA on a FINAL FANTASY XIV collection in celebration of the game's upcoming 10th anniversary, which will go on sale in select markets and online at Puma.com beginning on March 15 and in North America on March 25, 2023. Additionally Patch 6.35 for the critically acclaimed MMORPG FINAL FANTASY® XIV Online launched this week. The patch brings with it the next stage in the Manderville weapon enhancement quest series, alongside the latest Deep Dungeon: Eureka Orthos, offering players the opportunity to explore an ever-changing laboratory in pursuit of both rewards and challenges.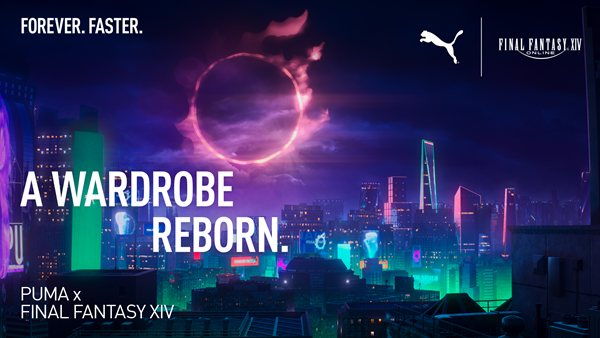 FINAL FANTASY XIV
Online and apparel brand PUMA have also teamed up to create a special collection that celebrates
FINAL FANTASY XIV Online's
10th anniversary and embodies the beloved game's theme of the duality between light and dark. The new aesthetic collection, designed by PUMA for
FINAL FANTASY XIV Online
, consists of footwear, apparel, and accessories, which combine iconic PUMA DNA, contrasting color palettes, and iconic graphics and characters from the visually immersive game. The collection will be available from March 15, 2023 in-store and online at puma.com in select markets, and from March 25, 2023 in North America.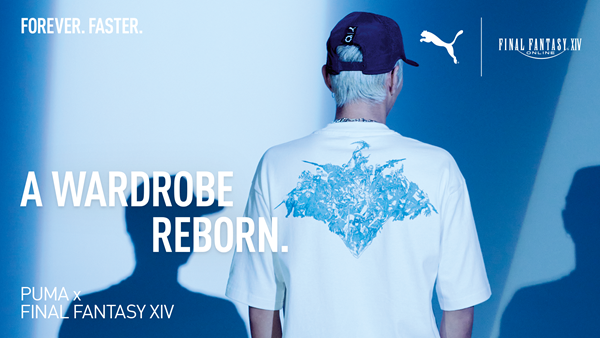 In anticipation of the collaboration's release, a new CG teaser campaign kicks off today, showcasing sneak peaks of the coming collection. Check out the first teaser video, which features the
FINAL FANTASY XIV Online
brand breaking into the PUMA world, at:
https://youtu.be/L8qNTl8B2oo
The collection will be available to purchase in-store and online in select markets worldwide and online at puma.com from March 15, 2023, and from March 25, 2023 in North America.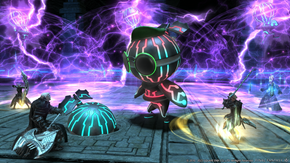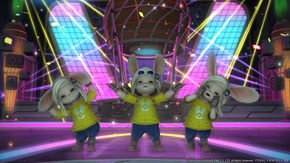 Further details on Patch 6.35 can be found below:
New Tribal Quests: Loporrits – With the moon no longer needed for interstellar evacuation, myriad tiny voices cry out for new purpose. Fortunately for the erstwhile starship crew, their own Dreamingway has no little experience in fretting over such matters, and is determined to help each and every Loporrit find their way.
New Deep Dungeon: Eureka Orthos – An ever-changing dungeon whose architecture is never quite the same each time players enter to explore its depths. All players will begin at level 81, and only by fighting the enemies within will they be able to gain the strength and experience needed to explore its secrets.
Somehow Further Hildibrand Adventures – After enduring a series of surreal misadventures on the moon, Inspector Hildibrand has made it back to the star's surface. He and his eclectic crew launch themselves directly into the search for Master PuPu's missing companion—an endeavor which attracts the attention of old acquaintances both affable and aggravating...
Weapon Enhancement Quests – Manderville Weapons – Lord Godbert has been diligently deciphering his ancestor's manual in a bid to recreate the magnificent Manderville weaponry. Though stymied by cryptic code for quite some time, the key to advancing the augmentation process is finally in his well-manicured hands!
Tool Enhancement Quests – Splendorous Tools - Emerging from a hermit-like existence at the bottom of the Tempest, a legendary craftsman makes his triumphant return home! The Crystalline Mean provides the stage for a new saga of splendid tools and ardent artisans.

For more information on Patch 6.3 and Patch 6.35 content, visit the promotional site:
https://sqex.to/5d234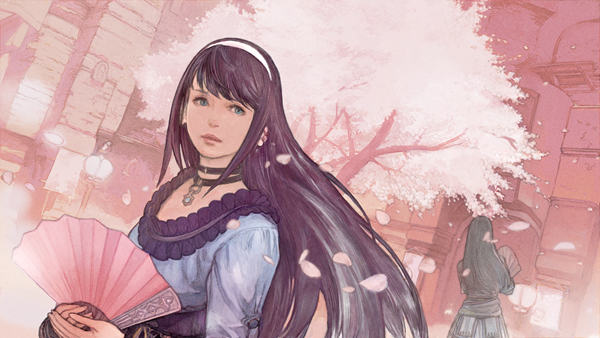 Players can also currently enjoy this year's Little Ladies Day in-game event until Wednesday, March 15, offering limited time quests and rewards: the Little Ladies' Dance emote, the Lovely Little Ladies' Day Advertisement housing item and the
Decisions
Orchestrion Roll. For more information, please visit:
https://sqex.to/hM5L6
With more than 27 million total registered players, there has never been a better time for newcomers to begin their adventures in the critically acclaimed
FINAL FANTASY XIV Online
saga. The expanded Free Trial now includes all content from
A Realm Reborn
™ and the
Heavensward
™ expansion (and updates through Patch 3.56), as well as an additional playable race (Au Ra), and three additional playable jobs (Dark Knight, Astrologian, and Machinist). Free Trial players can enjoy hundreds of hours of award-winning gameplay and story experiences equivalent to two full FINAL FANTASY titles, without limit on playtime. More information can be found at:
http://sqex.to/FFXIVFreeTrial
New players looking to get up to speed can dive into the
FINAL FANTASY XIV Online
Starter Guide Series, a seven-part online video series which provides novice players with tips and tricks to get the most out of their adventure. The YouTube video series follows the journey of new player Kaz and his mentor Mayra, who guides him through his first steps in Eorzea. Watch the video series online at:
https://sqex.to/8q2Pq
For more information on
FINAL FANTASY XIV: Endwalker™
, visit the official site at:
https://na.finalfantasyxiv.com/endwalker/
Related Links
Endwalker Site:
https://na.finalfantasyxiv.com/endwalker/
SQUARE ENIX® Press Site:
https://press.na.square-enix.com/
The Lodestone®:
https://na.finalfantasyxiv.com/lodestone/
Official Facebook®:
https://www.facebook.com/FinalFantasyXIV
Official Twitter®:
@FF_XIV_EN
Official Instagram®:
@ffxiv
#FFXIV
About Square Enix, Inc.
Square Enix, Inc. develops, publishes, distributes and licenses SQUARE ENIX® and TAITO® branded entertainment content throughout the Americas as part of the Square Enix group of companies. The Square Enix group of companies boasts a valuable portfolio of intellectual property including: FINAL FANTASY®, which has sold over 173 million units worldwide; DRAGON QUEST®, which has sold over 85 million units worldwide; and the legendary SPACE INVADERS®. Square Enix, Inc. is a U.S.-based, wholly owned subsidiary of Square Enix Holdings Co., Ltd.
More information on Square Enix, Inc. can be found at
https://square-enix-games.com
###
FINAL FANTASY XIV © 2010 - 2023 SQUARE ENIX CO., LTD. All Rights Reserved.
LOGO ILLUSTRATION: ©2021 YOSHITAKA AMANO
ENDWALKER, A REALM REBORN, HEAVENSWARD, the FINAL FANTASY XIV logo, DRAGON QUEST, EORZEA, FINAL FANTASY, the FINAL FANTASY logo, THE LODESTONE, SPACE INVADERS, SQUARE ENIX, the SQUARE ENIX logo, and TAITO are registered trademarks or trademarks of the Square Enix group of companies. "PlayStation" and the "PS" Family logo are registered trademarks and "PS4" and "PS5" are trademarks of Sony Interactive Entertainment Inc. All other trademarks are properties of their respective owners.