LOS ANGELES (June 22, 2023) – SQUARE ENIX® announced that DRAGON QUEST MONSTERS: The Dark Prince is launching worldwide on December 1, 2023, on Nintendo Switch™. DRAGON QUEST MONSTERS: The Dark Prince gives players the power to command and recruit various types of monsters to join them on an epic new adventure.

To view the announcement trailer visit: LINK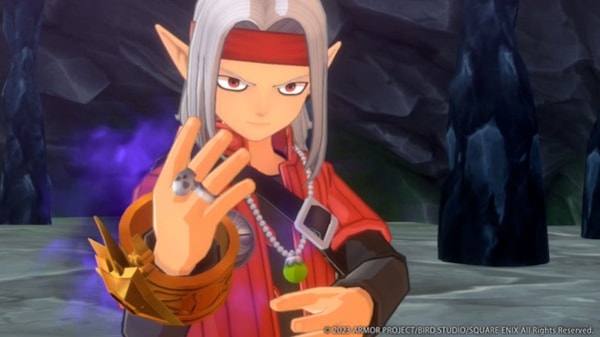 DRAGON QUEST MONSTERS: The Dark Prince
features Psaro, the demon prince, whose curse prevents him from harming monsters. As a result, he must become a Monster Wrangler, recruiting, and fighting alongside monsters throughout the various environments of the fantastical world of Nadiria. Over the course of this adventure, the seasons will regularly cycle through Spring, Summer, Winter, and Fall, which not only changes the landscape, but also opens new areas and players will encounter different monsters specific to that season.
One of the most powerful tools in the player arsenal is the newly evolved synthesis system which allows players to create completely new monsters by combining those already on their roster. Players can experiment and eventually unlock over 500 monsters, including franchise favourites, dark lords, and completely new creatures. Once players have assembled their dream roster, they can take their teams of powerful monsters online, to battle against other Monster Wranglers around the world.
DRAGON QUEST MONSTERS: The Dark Prince
will be available for Nintendo Switch™ on December 1, 2023.
Related Links:
Official Website:
https://dragonquest.square-enix-games.com
Instagram:
https://www.instagram.com/dragonquest
Twitter:
https://twitter.com/dragonquest
Facebook:
http://www.facebook.com/DragonQuest
YouTube:
http://www.youtube.com/DragonQuest
#DragonQuest
About DRAGON QUEST
DRAGON QUEST is a legendary series of role-playing games created by Yuji Horii and beloved by millions both in Japan and around the world. The first DRAGON QUEST was released in 1986, and the game made its US debut in 1989 as DRAGON WARRIOR. The critically acclaimed series has shipped more than 85 million units worldwide, spanning 11 main series titles, many spin-off games, as well as films, anime, novels, manga, merchandise and more. Celebrating its 37th anniversary this year, the wildly popular DRAGON QUEST franchise holds various Guinness World Records including "Longest-Running Japanese RPG Series."
The visionaries behind the series, Creator and Game Designer Yuji Horii, Character Designer Akira Toriyama (creator of Dragon Ball) and composer Koichi Sugiyama, have long enchanted newcomers and long-time fans alike, with each new entry in the franchise comprising charming visuals, enthralling storylines, and captivating music. The latest instalment, DRAGON QUEST XI S: Echoes of An Elusive Age, was released to much critical acclaim, winning the Metacritic Must-Play game award and becoming Metacritic's "#2 Best Switch Game of 2019" and "#3 Best PS4 Game of 2020." It has shipped over 6.5 million units globally to date.
About Square Enix, Inc.
Square Enix, Inc. develops, publishes, distributes and licenses SQUARE ENIX® and TAITO® branded entertainment content throughout the Americas as part of the Square Enix group of companies. The Square Enix group of companies boasts a valuable portfolio of intellectual property including: FINAL FANTASY®, which has sold over 173 million units worldwide; DRAGON QUEST®, which has sold over 85 million units worldwide; and the legendary SPACE INVADERS®. Square Enix, Inc. is a U.S.-based, wholly owned subsidiary of Square Enix Holdings Co., Ltd.  
More information on Square Enix, Inc. can be found at 
https://square-enix-games.com
###

© 2023 ARMOR PROJECT/BIRD STUDIO/SQUARE ENIX All Rights Reserved.
© SUGIYAMA KOBO
DRAGON QUEST MONSTERS: THE DARK PRINCE, FINAL FANTASY, DRAGON QUEST, SQUARE ENIX, the SQUARE ENIX logo, SPACE INVADERS, and TAITO are registered trademarks or trademarks of the Square Enix group of companies. Nintendo Switch is a trademark of Nintendo Co., Ltd. All other trademarks are properties of their respective owners. All other trademarks are properties of their respective owners.